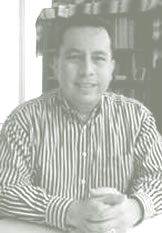 Meet Jose-Luis Maurtua
Assistant Professor of Theory and Composition at Central Michigan University. He is a Peruvian born American composer who has written music for the concert hall, dance, theater and film.
Dr. Maúrtua's music has been performed by the National Symphony Orchestra of Peru, the Trujillo Symphony Orchestra (Peru), the NVCC Symphony Orchestra (Virginia), the Florida State University New Music Ensemble, the Alexandria Guitar Quartet, the Cuarteto de las Americas (Mexico), and the Toluca Chamber Orchestra (Mexico).
In August 1999, Dr. Maúrtua took a group of American musicians from Florida State University and Central Michigan University, to perform with the Trujillo Symphony in Peru. His Muliza for alto and Tenor Saxophones, Piano and Percussion was premiered at the World Saxophone Congress in Montreal, Canada in July, 2000.